POST UPDATE
I wrote this post originally back in 2016 and (not) surprisingly it hasn't had many views since 2017 so I thought I would update it for 2021. But you know what? I really don't need to do too much to bring it up to date. A lot of the points made still hold, but here we go!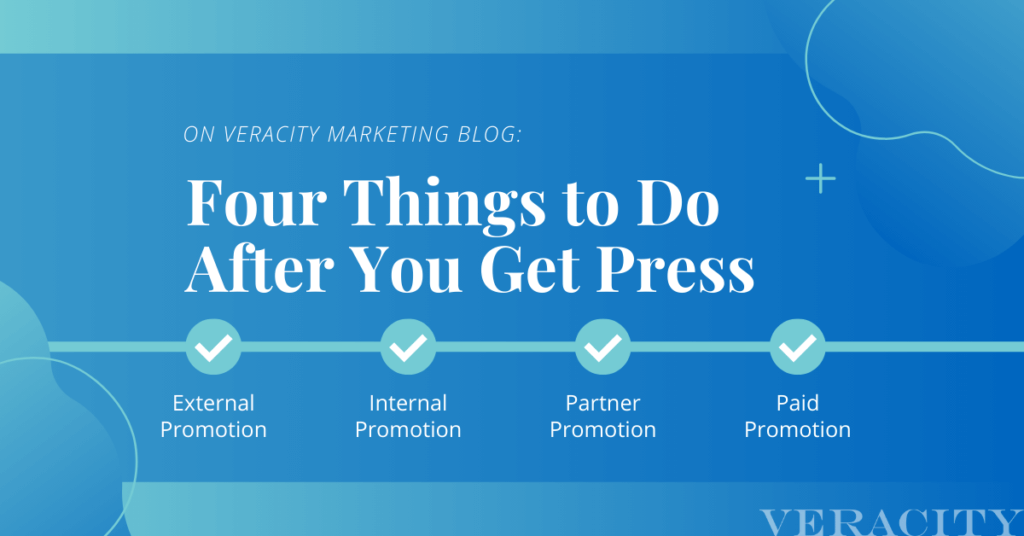 We (still) do a lot of pitching…I mean a lot! But our job and our clients' job is not done when a story lands or we get a guest post/article placed. Now we need to promote that story, segment, or article. Not only internally, but let's leverage our professional and personal networks, coworkers, employees, influencers and other partners. Media placements and thought leadership pieces provide 3rd party credibility and it is powerful. Spread the love.
I'll break it down into four promotional categories: external, internal, partner and paid. The tactics cross over and can be redundant, but use your best judgment and create a documented, repeatable process.
External Promotion
Third party endorsements (the media) can be a great sales tool. Use media coverage in your sales promotions and advertising campaigns. Add a section to your email newsletters if you get consistent media exposure or add stories on a one-off basis.
Let other media outlets know about the coverage. For example, Logical Position landed on Inc. Magazine's list of Fastest Private Companies. Making sure the local media knows can garner additional exposure, like this inclusion in the Portland Business Journal post.
Add to your website "as featured in" or "as seen on" verbiage. P3 Cost Analysts does this well, it doesn't work for everyone. I can't picture an "as seen on" section for brands like Lego or the Trail Blazers.

Social Media
Share with your social networks, link to the article, tweet from the post…you can do this more than once (assuming you are at least relatively active).
When you're sharing the link, be sure to mention and tag the publication and journalist as appropriate. Also, look for other social mentions to share. Did the publisher share on their various social networks? What about the author? Find these mentions and make sure to "like," "share" and comment as appropriate (if you are the author of the article, be sure to answer any questions asked in the comments). Comment directly on the post, encourage your employees and/or fans to comment and share.
Not only will this further the exposure of the article you are sharing, but you can also use the engagement metrics to give credibility for the next pitch.
Internal Promotion
Have a plan for each of your internal channels to promote media successes including:
Email (or Slack, Facebook/LinkedIn groups, whatever you use to communicate internally)
Do you have a company-wide email list or specific members of your team that should know? They might be aware of the mention and would love to easily share. Make sharing it super easy for them, whether it's a simple forward of the email or providing sample posts/tweets or social share options.
Meetings
Mention the coverage at department meetings! Heck, frame the coverage and display it in your office (or Zoom background)! If you put coverage in your public reception area, it gives your visitors a chance to see how amazing you are without you actually having to tell them.
Blog Post
You may even want to write a blog post about the hit. Your marketing team did a lot of work — whether that involved a press release, email pitch, research, visual creation, etc. — to land the story. Use that content to write a blog post that goes more in-depth or features your point of view.
You can also include a mention and link within a post about another topic like I've done with an article on Convince & Convert in this very post.
News/Media Section
If you have a media or news section on your website (you should!), add the new hit to it (don't forget the link). Spend a little time making it look really good, as it can be used as a nice sales piece.
Partner Promotion
Are other businesses mentioned in the story? Make sure they know about it and ask them to share via their marketing channels. Be sure to include a link to the story, along with any images and social profile links you'd like to have included. A simple email will typically do the trick. Even if you don't already have a contact at the "partner" company, you can reach out. They very well may not even know about their inclusion in the piece and will be more than happy to give it a little boost. For example, here's a quick email we used that resulted in a Tweet, Facebook post and LinkedIn share:
Hi, just wanted to let you know about the following post that features (and links to) Moxi Works.

http://realtormag.realtor.org/for-brokers/network/article/2015/12/start-planning-for-improved-new-year

Feel free to share as you see fit :), if you do share via social media, please feel free to tag Windermere Stellar on Facebook, Twitter and/or LinkedIn.
Share with trade, community or other business associations you are involved with. Many industry trade groups have email newsletters and social channels that are continuously looking for content and ways to appease their members.
The Convince & Convert hit mentioned above was written on behalf of SEMpdx and included case study examples from Webfor and Webranking. A post like that has at least four organizations and three people interested in seeing additional exposure.
The media also uses a variation of the formulas above for promoting their content, so sharing — and making sure your partners share too — will get you more exposure. Using the post example above from Convince & Convert, you can start to pile on the exposure by getting in their email newsletters, recap posts and more.
Paid Promotion
Specific sales goals and key performance indicators (KPIs) should be attached to your PR efforts. That doesn't stop once the story lands. PR is effective because it isn't paid advertising (remember that 3rd party accreditation). But we can invest some budget in making sure that an article gets to a broader market.
Dennis Yu spoke at an SEMpdx event sharing his "dollar a day" approach to leverage your exposure with a limited budget and additional effort. His method is to spend a little bit every day to reach a broad audience and "influence the influencers."
To review, spending some time, and potentially budget, to get the story you worked so hard to land in front of more people will bring additional success to your marketing campaigns. It will also provide some great talking points in that next media pitch where you can point out all the places that your article was shared, liked and promoted. Create a documented, repeatable process for what to do once you get that hit.
header image via Unsplash