A MODERN GUIDE TO PUBLIC RELATIONS
UNVEILING THE MYSTERY OF PR
INCLUDING: CONTENT MARKETING, SEO, SOCIAL MEDIA & PR BEST PRACTICES
Never write a press release again. Amy Rosenberg's no-frills guide to public relations is everything you wish you learned in college or on-the-job about launching a PR career or adding new skills to a flourishing marketing position.
This honest boots-on-the-ground account of working in public relations details how to work with bloggers, podcasters, influencers and traditional media to generate press coverage, social media attention, increased search engine optimization (SEO), praise from bosses and clients, and better working relationships with colleagues and media partners.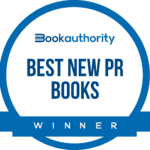 New approaches to PR are also uncovered, including: PR methods for increasing organic search rankings (SEO PR), social media and content PR (blog posts are the new press release), and operating as your own newsroom.
But most importantly, this guide serves as the ultimate tough-loving mentor for anyone starting their PR career or trying to get ahead in marketing by picking up new skills, methodology and a fresh perspective.
REFERENCES
PR Talk podcast episodes, how-to videos and blog posts referenced in A Modern Guide to Public Relations:
VIDEOS
Video insights from author Amy Rosenberg taken directly from the book:
MEET THE AUTHOR
Learn more about PR Talk podcast host, Veracity founder & president and author Amy Rosenberg
GET THE BOOK
To purchase fewer than 10 books, please order at Amazon. See below to purchase more than 10 copies.