Celebrate with us at the DJC's TopProjects party on May 18th. PR ChalkTalk subscribers get 15% off tickets with discount code: DJC.
For the real estate professionals, marketers or building enthusiasts reading this post, understand one thing: Nick Bjork is one of us. Currently the publisher of the Daily Journal of Commerce Oregon (DJC), Nick is responsible for the publication's overall management, but he didn't always work behind the scenes. His diverse background started on the Oregon coast, watching his father run a marine construction company. With the love of construction and public work instilled in him, Nick began his professional career as a reporter, including a stint at the DJC. Nick then transitioned into to selling residential real estate — he and Amy had fun reminiscing about their mutual real estate days. An advertising sales position brought Nick back to the DJC and he then took over as publisher in 2015.
Nick's experience on both "sides" of the paper, as well as someone in the trenches and working in the industry, gives him unique insight. Nick points out that in real estate — especially residential, but commercial as well — decisions aren't made exclusively on financial sense. Exterior factors like weather, mood, wall colors and relationships often play a larger role.
The Pitch Opportunity:
If you want to reach anyone associated with the building and construction industry, the DJC is a great way to get in front of them. Its entire purpose is providing leads to the building industry.
To help narrow your focus, the paper has three main sections:
Land use policy and new development — what's coming up in the distant future.
Architecture and Engineering — trends, what's new, what's happening, projects that companies are getting.
Construction and Transportation — trends, watchdog reporting, contracting and permitting. Nick states this focus is really the "voice of the contractors."
Reach out to the reporters directly based on their specific beat (more on this below).
About the DJC:
As the official paper of the City of Portland, the Daily Journal of Commerce (DJC) is the premier source for public notices, bid information and reporting specifically for the building and construction industry, also known as architectural, engineering and construction (A|E|C).
This largest public notice paper in the nation has been operating in Portland for 145 years. More often than not, when the government has to notify the public, they'll run a notice in the DJC. They include things like: death notices for next of kin, foreclosures, auctions, government procurement for professional services, supplies or construction services above a certain dollar amount and notices of public bidding opportunities.
In addition to publishing three times each week (Monday, Wednesday and Friday), providing the printed content and additional features online and adding value through email newsletters, the DJC organizes several events. The largest, TopProjects, is coming up soon — May 18 at the Oregon Convention Center.
TopProjects
Coined "the Oscars for the building industry," the 600 person event will recognize 95 finalists at the annual networking event celebrating the top industry projects of the year. Hurry before tickets sell out! The public is welcome to buy a ticket ($95) to join in a celebration that gets larger every year.
PR Tips:
Don't just send a press release
We're noticing a theme when asking our media friends for PR tips. They're universally advising against just sending press releases. Nick did not sway from this sentiment, stating that their editorial content must live up to the DJC's high subscription cost ($230/year). Meaning they won't just run your press release. Sure, they'll garner ideas and information from press releases, but 90 percent of their stories are sourced.
Ask them to coffee
Are DJC reporters really willing to take the time to sit down with PR pros? They're game — as long as you take the time to understand their audience and research their stories. Ask them to coffee and see what amazing ideas can come out of a 15-minute conversation. But please keep it cool and don't turn it into a pitch session.
"These guys are hungry for stories. They have to produce a lot of content a week." — Nick Bjork
Be a thought leader
Bring them a timely story idea or industry trend along with an example of someone who is involved, who may just happen to be an executive in your company or your client. Show them how you're doing something unique and/or being a thought leader in the industry.
Nick also notes that their multi-source journalistic style always examines all sides of an issue. The DJC doesn't necessarily require breaking news, rather stories about how relationships or projects came together.
Become a contributor
There are opportunities to be a guest contributor to the DJC. Providing an opinion on a trend or column about the industry is a good way to reach DJC readers. Industry insider and relevant peripheral contributors are desired. Nick mentions accountants and lawyers as great examples of people that directly work with their readers, but also provides an example of an interview coach who isn't specific to the building industry, but speaks directly to the bid interview process which many DJC readers are interested in.
In fact, they like to develop quarterly or even monthly relationships for editorial contributions…maybe something to approach during that coffee meeting you set up?
Where, when, who?
Where do they get their stories from? Besides those press releases that do occasionally lead to story ideas, DJC reporters attend lots of meetings (land use reviews, neighborhood associations) and permit requests/notices.
When is the best time to pitch them? Since they print three times a week, there are no specific days that are off limits or better than other times. Each reporter is responsible for writing one lead story (1,500 words) each week, so certain reporters may be harder to reach depending on the day. DJC reporters also tend to work a little further out since they don't focus on breaking news. Also, like all media these days (see the clip from John Oliver below), their reporters are responsible for more than just their print articles — something else to keep in mind.
Who to pitch? As mentioned above, do your research and pitch the appropriate reporter. Here is the current focus and contact info for DJC reporters: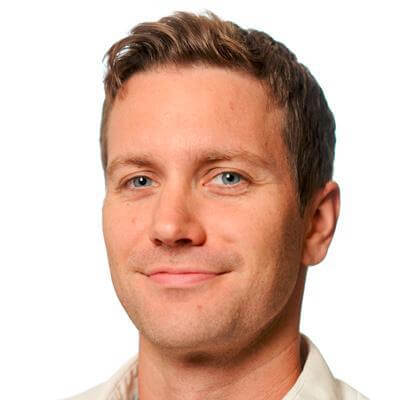 Garrett Andrews
Construction, Transportation & Building Technology
PR Pet Peeves:
Nick's experience as a former reporter, turned publisher, gives him unique answers to our question about PR pet peeves. His tips include:
Don't just tell us how great your company is. Tell us what you are doing that is interesting and unique. Or provide value with insight into industry trends.
Your sources don't always have to be the president or spokesperson of the company. The DJC loves a hands-on perspective from experts in the field (e.g. an engineer that actually works on projects) that can provide a unique point-of-view.
Don't try and pitch a story just about the company, but about a topic as an expert.
No more anonymous sources. Don't bring it if you can't be a source.
Exclusives and embargoes are annoying. Don't bring them a story they can't run!
Portland's Daily Journal of Commerce is a direct route to the construction, building, architectural and engineering industries. If you pay attention to what their readers want, bring new angles and fresh perspectives, you can get your message across to a highly targeted audience.
About the guest: Nick Bjork
Nick Bjork is the publisher of the Daily Journal of Commerce. He oversees the day-to-day operations of the trade publication dedicated to the building industry in Oregon and Southwest Washington, and the company's data product, DJC Project Center. Nick has spent the majority of his professional career at the DJC, starting out as a real estate development and land use beat reporter, followed by several years developing and selling new advertising products for the media company.
Connect and follow Nick on social media: