In this episode of the PR Talk podcast, we asked several past guests for their 2023 marketing and industry predictions. Participants include Katharina Hicker, Christopher Penn, Vanessa Neurohr, Adam Ritchie, Emmy Thomas, Jason Falls, Anna Dearmon Kornick and Laura Norup Boyer. Look out for host Amy Rosenberg's release of her public relations predictions blog post next week.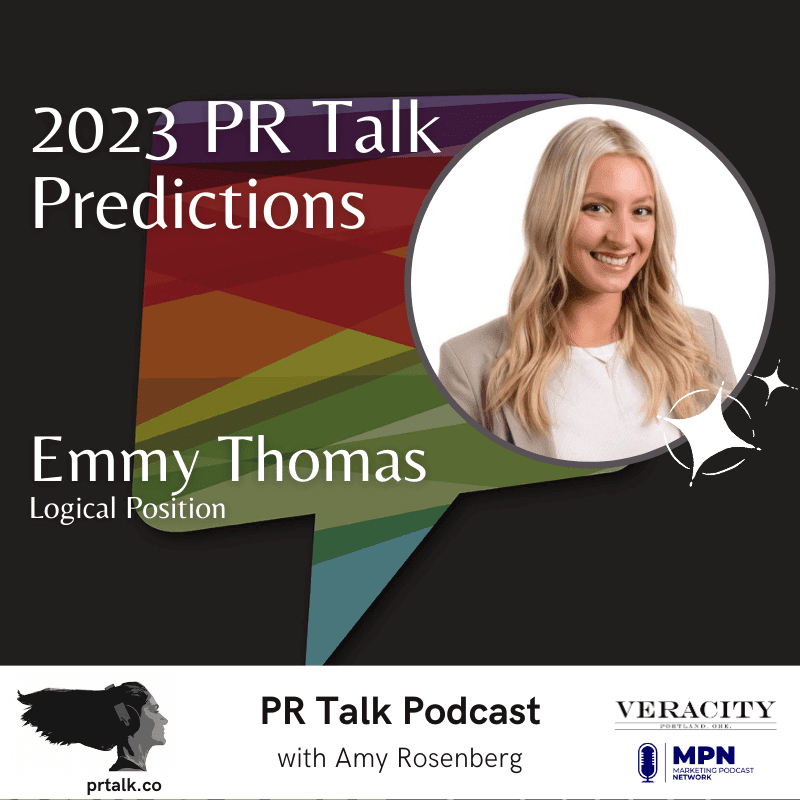 We will see an increase in user-generated video content in advertising, especially on paid social advertising platforms. As we've seen with Instagram reels and TikTok over the past few years, video has become the most engaging form of media. For the right type of retailers with the right product, I can see them shifting to a video advertising strategy that feels more in line with organic, real-time content rather than precisely-edited and polished videos.
The use of videos also falls in line with paid influencer marketing, which promotes or showcases a product through video by turning that into paid advertising. This type of video content allows advertisers to show rather than tell and is really great for developing trust with buyers before making a complete purchase.
For more from Emmy, listen to her full 2022 PR Talk interview on Where's the Culture – Marketing Connection?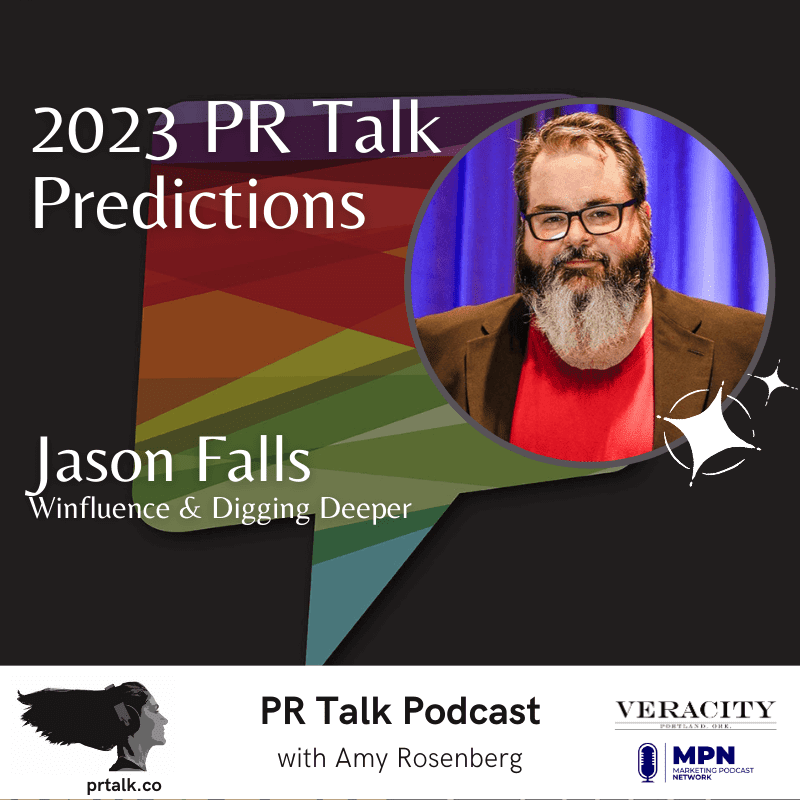 Digital marketing thought leader, author of
Winfluence
, and host of two podcasts:
Winfluence
and
Digging Deeper
We are in an economically disadvantageous situation globally. I predict that brands are going to start spending less on marketing and paid content. Many will start looking for ways to route their budget to more earned and owned efforts to make more efficient use of their dollars. It's a good opportunity for us in the PR and influence marketing field, but brands are going to be smart with their dollars.
I suggest looking at micro and nano influencers. More importantly, businesses should plug into their own communities by looking at their employees, customer base and vendor partners to see where there are influential voices. It is a much more efficient way to drive influence, and I believe it will happen a lot more in 2023 due to the economic situation we have found ourselves in.
For more from Jason, listen to his full 2022 PR Talk interview on Influence Marketing.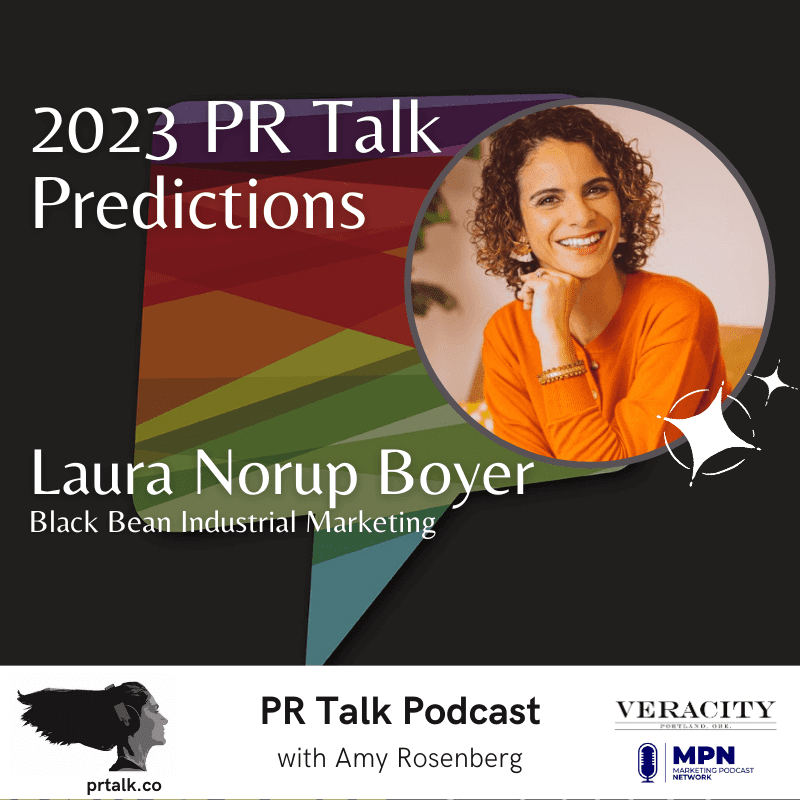 I have four digital B2B marketing predictions for 2023. To dive deeper into each, please read my full blog write-up.
A Massive change in social media marketing. Twitter is free falling, and frankly, so is Facebook, so expect newer platforms like TikTok to fill the social media power vacuum.

Video video and more video! Editing and publishing have finally become easy and affordable enough for small and medium businesses to do well, expect a lot more of that.
Google Analytics 4 is coming on July 1, and many businesses won't be ready in time. Make sure you adopt their new system to be positioned for success.
The biggest marketing trend will be AI. The AI tools available are going to change everything for search advertising, content marketing and website development. One way or another, digital marketing is going to get weirder in 2023, so businesses and marketers must be agile in the face of it.
Our advice at Black bean is to keep your head up and your eyes open, embrace change but never forget your fundamentals: customer experience, brand visibility, and ROI. The way we deliver on those fundamentals may change, but the goal remains the same.
For more from Laura, listen to her full 2022 PR Talk interview on Industrial B2B Marketing.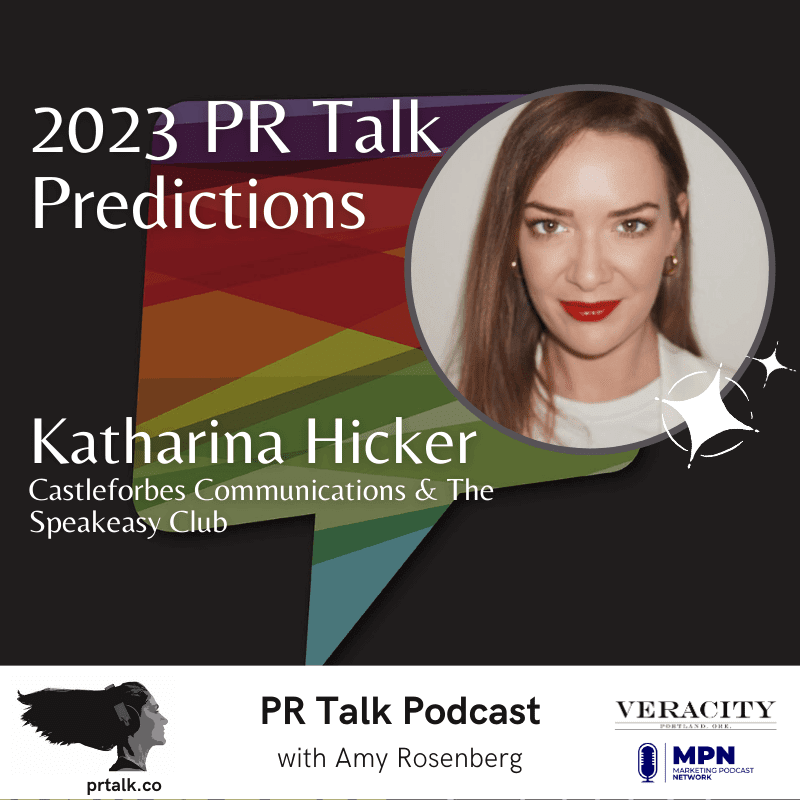 My three PR predictions for 2023 are:
We will see more press conferences taking place in the metaverse.

The social media channels of news outlets will be playing an even bigger role in 2023. PR pros need to rethink what platform they are pitching for. Is it a win if you place a story in print, even a story about a digital business? Is it a win if the story is living on a platform that you actively have to promote? Or is it a win if an outlet dedicates a post about your story on their social channels, the same place you use to promote yourself?

PR will become more global. When we pitch to the media, it doesn't matter which country or market. We follow what I call the relevancy triangle: your story is either based on the location, the people involved are from the location, or your story is somehow contributing to this location. But businesses are becoming less attached to locations, founders are digital nomads with diverse backgrounds and the contributions that businesses establish are borderless. As businesses continue to have a global mindset, the media has followed and so will PR.
For more from Kat, listen to her full 2022 PR Talk interview on PR Globe Trotting From Germany to Dubai.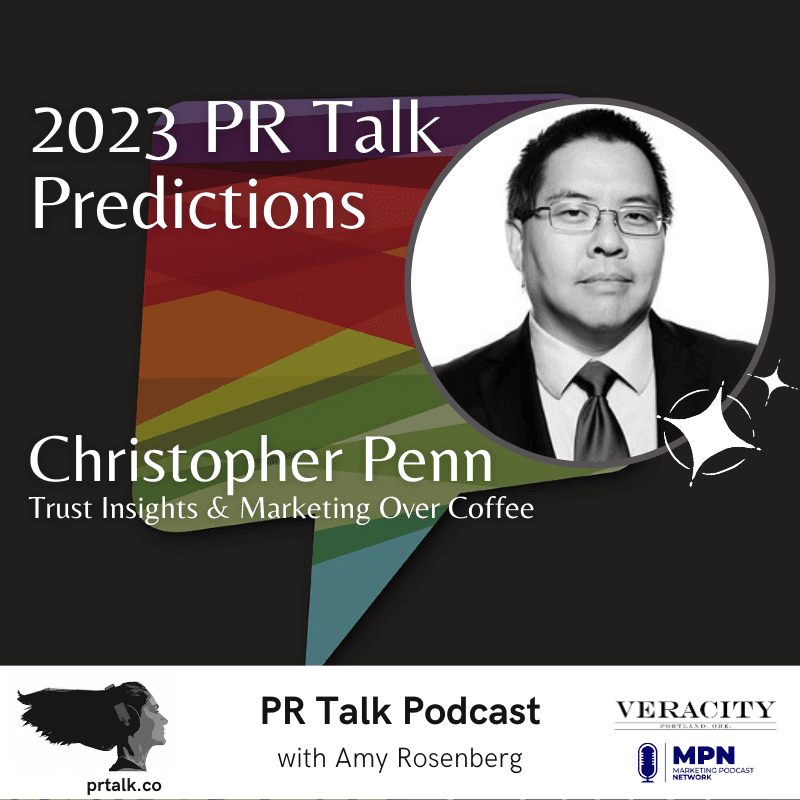 Co-Founder and Chief Data Scientist for
Trust Insights
, author, keynote speaker and podcast co-host of
Marketing Over Coffee
Our prediction is that there will be a flood of new content thanks to the prevalence and ease of tools like GPT-3 from OpenAI and their ChatGPT tool. You can expect that the amount of content marketers will be creating in the next few years will dwarf anything that has come before. That means that as marketers and communicators, we have to work much harder to be heard amongst all the noise.
Building a loyal and private community where you can curate people and help focus their attention is going to be absolutely essential if you want to succeed in getting people to pay attention to you. So get ready for not just the content flood but a literal tsunami of new content that will overwhelm anyone who is not producing at volume and curating a community.
For more from Christopher, listen to his full 2022 PR Talk interview on Why You Need Data in Your PR Strategy.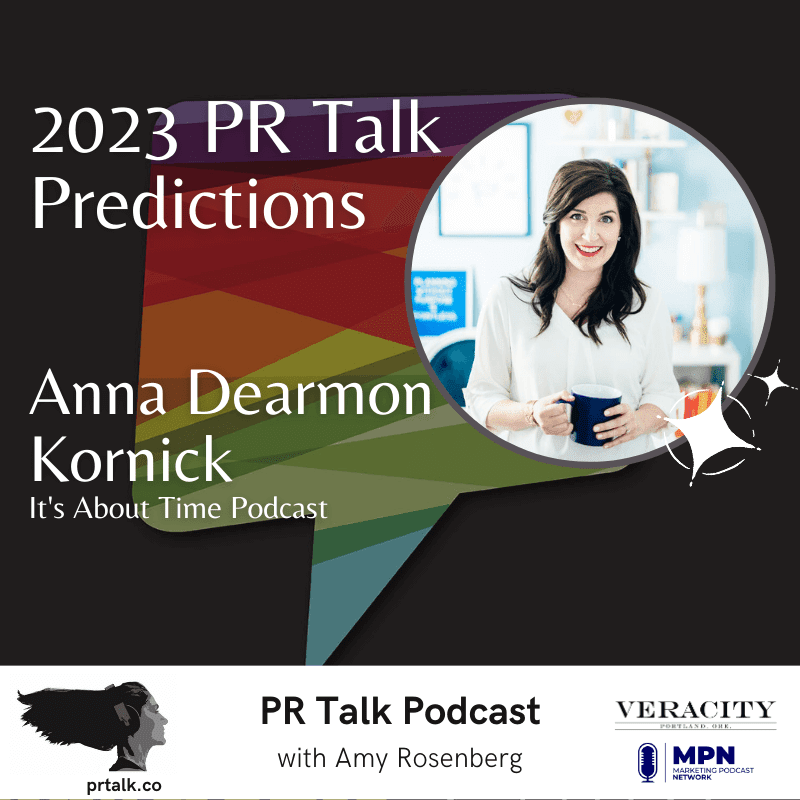 Just as the PR industry is seeing an increase in AI-powered copywriting tools, in 2023, I predict your time management will also become AI-powered. There are already some amazing tools on the market, like Clockwise, Motion, Sunsama, Time Hero and others, that can help you take back your time by learning your preferences and managing your calendar.
I predict that we will see more widespread usage of these tools. Right now, it takes an average of 30 minutes to manage the back-and-forth logistics of meetings manually. You weren't hired to manage a calendar, you were hired to manage reputations and build relationships. To stay ahead of the game in 2023 and win back your time, test drive an AI time management tool and spend more time on what matters most.
For more from Anna, listen to her full 2022 PR Talk interview on Managing Time Within the Chaos of PR.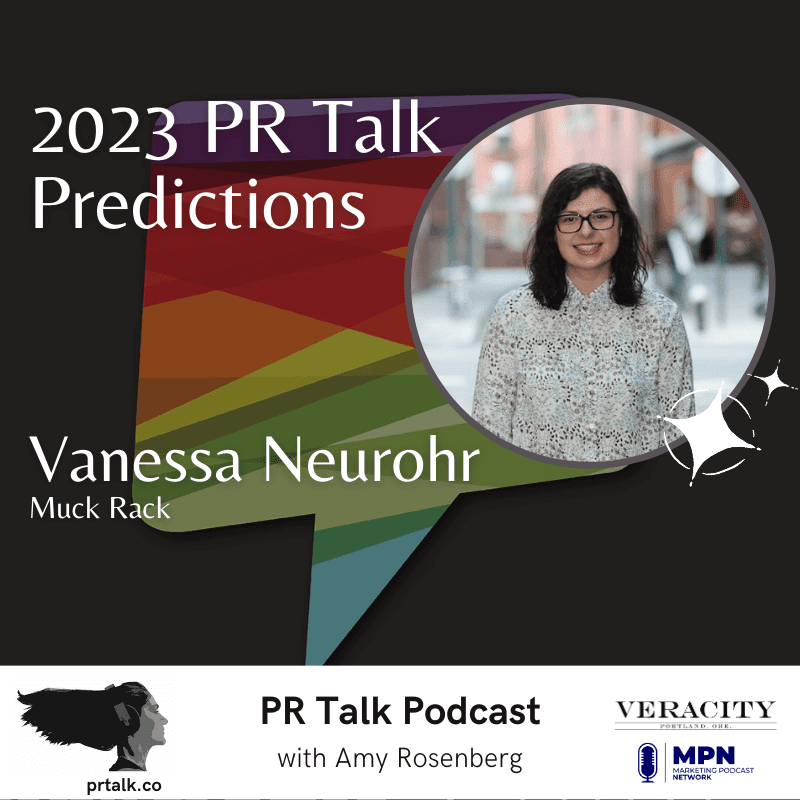 VP of Customer Success at
Muck Rack
My 2023 PR prediction is that brands and agencies will benchmark legacy metrics with new and or different metrics to continue proving the impact of their work. As we enter uncertain economic times, it's even more important for PR professionals to leverage data in order to communicate their contributions back to their clients or internally within their organizations.
For more from Vanessa, listen to her full 2022 PR Talk interview on Developing Long-Term Relationships Through Customer Success.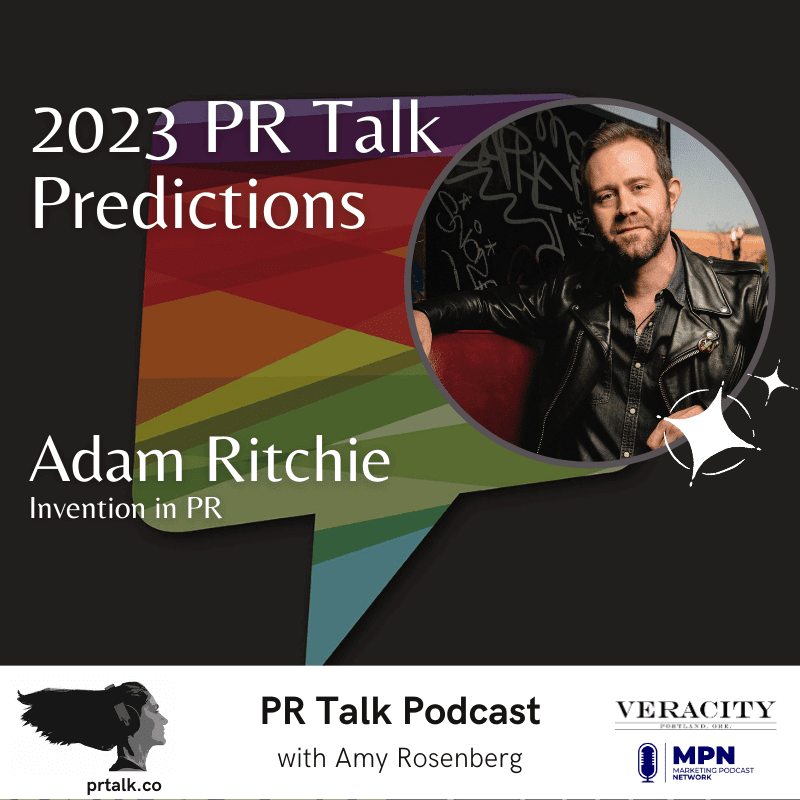 The best PR campaigns will involve product creation, and then promotion — rather than promotion only. Start paying attention and you'll see the signs everywhere. Two of the shortlisted entries in the "Best in Creative Excellence" category of next year's PRWeek Awards are invention-first PR campaigns: Applebee's "Saucy Gloss" and MillerCoors High Life's "Gingerbread Dive Bar."
Just this past month, we saw two competing bourbon brands announcing PR campaigns one day apart: Diageo's "Bulleit Pioneer Project" — which was a content contest — and Jim Beam's "Kentucky Hug Holiday Pajamas" — which was a set of PJs weighted to give a hug to a loved one from afar. Weeks later, Bulleit's campaign still hasn't left the starting line of its press release, while Jim Beam's invention has earned unique coverage on CNN, Entrepreneur, Men's Journal and Forbes.
These are examples of where the bar was set versus where the bar is set. Some PR-minded marketing pros are clearly pushing themselves to come up with killer product/service concepts that drive a campaign. The brands using this approach are making competitors eat their dust.
For more from Adam, listen to his full 2022 PR Talk interview on Invention in PR: Pushing the Limits of Product Promotion to Product Creation.
This episode of PR Talk is brought to you by PRSA Oregon
Throughout Oregon and Southwest Washington, PRSA provides members with networking, mentorship, skill building and professional development opportunities – whether you are a new professional fresh out of college or a skilled expert with 20 years in the industry. Check out PRSAoregon.org for more information on how membership can help you grow and connect.
PR Talk is part of the Marketing Podcast Network
The Marketing Podcast Network gives brands that sell to marketers direct access to reach thousands of buyers via their trusted media source: Marketing podcasts. Browse our library of shows and see where your message can be placed to reach prospective customers ripe for your message.