Here's Why Your Perspective Matters.
If you've been on LinkedIn lately, you've probably seen the posts. Brash statements about business success. Pictures of flashy clothes and cars. Humblebrags about the fantastic team that "made it all possible." Promises of extraordinary results if you just follow their plan/hire their company/buy their book/click this link. These posts have become the background noise we all wade through as we roll our eyes and continue scrolling. In too many cases, what passes as thought leadership is nothing more than a thinly veiled sales pitch or a cheap Ted Talk knock-off.
It's no wonder, then, why many executives avoid adding their voices to the online conversation, choosing instead to focus on their relationships and day-to-day work. After all, when thought leadership goes bad, it can go very bad, and no serious business leader wants to come off as a cliche. However, leaders who are reluctant to enter the thought leadership space often don't give themselves enough credit for what they have to offer. Others don't realize the benefits this marketing approach can bring their organization. In reality, you don't have to be Simon Sinek to make a difference in your industry. With a good strategy in place, any leader can become a thought leader.
Why Business Leaders Should Also Be Thought Leaders
Business executives are already leaders by nature. They manage teams, direct initiatives, oversee operating budgets and use their experience to make tough decisions. Within these everyday duties lay the kernels of big ideas that can educate, inspire and even promote. Thought leadership demonstrates these ideas through writing, videos, podcasts, speaking engagements and more. As a business leader, you have the opportunity to lead from the front by highlighting what makes your organization special. But that's not the only reason to take the plunge.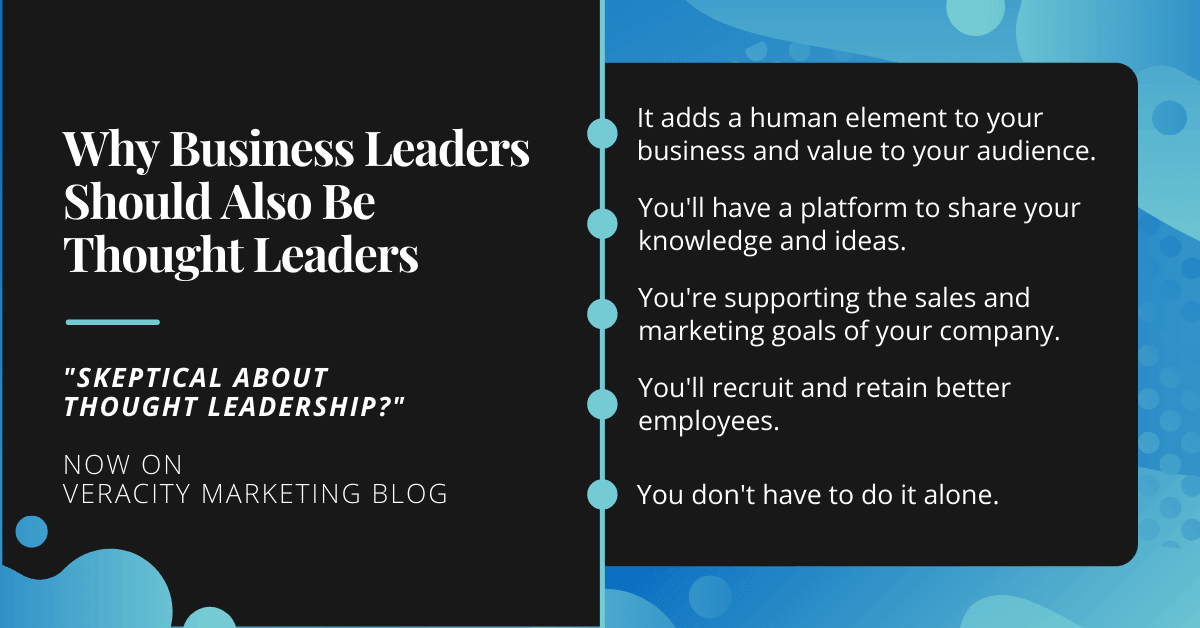 The Human Element
It's easy for organizations to appear impersonal, while its human face remains hidden within cubicles and conference rooms buried inside nondescript buildings. Thought leadership campaigns add an essential human element to your corporate identity. Through carefully crafted content, executives add personality and context to their company's work. This strategy also humanizes the people making decisions behind-the-scenes. Most importantly, the best thought leadership connects business activities with our shared human goals. If you can show people how to connect and cooperate more effectively, how to improve in their work or how to thrive in their lives, you'll transcend the typical buy/sell relationship into something much more meaningful.
You Have Ideas to Share
We're not talking about E=MC2 here. Those ideas come along once in a generation. However, you've undoubtedly learned a thing or two over the years. Whether it comes from smashing success or crushing defeat, your experience can help other people move more successfully through their own lives. What's more, your organization is full of professionals and experts who've built their careers on doing their thing. Knowledge and ideas exist within your orbit. The challenge comes in unearthing and sharing that innate expertise in ways people find relevant and exciting.
You Aren't Doing This for Yourself
Undertaking thought leadership as an ego play is a losing proposition. Social media has helped us all become adept at spotting and dismissing inauthentic personal branding efforts. If, instead, your thought leadership campaigns remain focused on meeting your audience's needs as a way of raising your company's public profile, your work will have a tangible business goal and measurable outcomes. Any attention from these efforts will benefit your company and your team, which is the way it ought to be.
Your Organization Will Benefit From the Spotlight
Sustained thought leadership campaigns can also become significant sales engines for your organization. Research conducted by LinkedIn and Edelman showed that thought leadership drives new business, increases existing business and shortens the sales cycle. Thought leadership also supports other sales and marketing goals like increasing engagement, driving website traffic and building brand loyalty. As a leading company spokesperson, your efforts will bolster your organization's reputation and boost its bottom line.
You'll Recruit and Retain Better Employees
Thought leadership helps build organizational pride. When your leaders create exciting content that garners positive attention, it gives employees one more reason to love where they work. Plus, the new business your thought leadership campaigns generate could lead to more rewarding and profitable work for your staff. When it comes time to expand, your thought leadership work will have formed a positive backing of press coverage, making your organization more attractive to top-level talent.
You Don't Have to Do It Alone
Perhaps most importantly, thought leadership won't be something you have to tackle on your own. Instead, influential thought leaders work with a team that helps them develop ideas, create content, strategize placement and analyze the results. Taking this big step alone would be challenging for almost anyone. But with the right people in your corner, thought leadership can become one of the most effective marketing tools in your arsenal.
Great Leaders Are Already Thought Leaders
Thought leadership doesn't have to be cliche. When done well, it communicates ideas, promotes an organization, builds identity and connects us with shared goals. In reality, these are activities great leaders already participate in every day. Thought leadership simply extends those activities outside your corporate walls in ways that return benefits to the organization. With a little planning and care, your thought leadership will rise above the noise to become something truly useful.