Public Relations Isn't Just for Red Carpets
To many, the idea of public relations, or PR, implies celebrities, fancy red carpets, glossy magazine spreads and hotel room press junkets. Or it's the cynical hired gun who swings into action to manipulate public opinion after someone important was caught cheating on their wife, cheating on their taxes or cheating their constituents. Within this framework, PR is all about spinning lies into truth and vice versa. While those negative perceptions certainly have some basis in reality, most PR professionals are ethical, rational and strategic thinkers who are assets to their clients. It's almost as if…wait for it…public relations could use a little PR of its own.
What is PR?
Even business leaders who know that PR is about more than bragging or covering up problems may view PR as a luxury they can't afford — particularly if they already have a marketing strategy in place. But in truth, a solid PR strategy is a crucial component of any businesses' broader sales and marketing efforts.
PR is a separate discipline that reaches out to audiences in different ways than marketing. It's also flexible enough to shift messaging and audiences depending on the targeted industry. If you're only activating a marketing strategy, you're likely missing out on critical opportunities PR could uncover. And when you maximize PR with other disciplines, PR can become the driving force in your growth efforts through collaboration, asset sharing, and coordination.
PR in Practice
Most PR activities are far removed from the glitz and glamour of Hollywood. In fact, PR is pretty dull. When a program's primary goal is to obtain media coverage, PR professionals tell the news, just like reporters do. To develop those stories, we build systems that collect facts and uncover themes. These systems are always running in the background, ready to provide helpful information when it's needed most. But PR also works for companies in other essential ways.
It's Proactive
When it's done well, PR builds a trail of goodwill and puts a human face on your company. That way, in the event the press or public ever checks you out, or, god forbid, something does go wrong, there are assets available that can work for your organization. A functioning PR program creates systems to leverage opportunities or deal with emergencies. Without them, you could be caught flat-footed.
It Builds Your Public Brand
Your organization is probably already doing dozens of amazing things every day that the press and public would be interested to hear about. However, it's hard for organizations to understand how great they are when they're in the middle of doing the work. PR provides an outsider's point of view and a fresh set of eyes with practice identifying story ideas. With these assets in place, you can begin telling your story to your audiences and build a brand that's distinct from what you're selling. As we like to say at Veracity: if you're doing something unique, and nobody knows, then did it ever really happen?
It Adds Credibility
Nothing makes a company feel substantial like an established history of media coverage. Passing that newsworthiness test adds a level of credibility that self-promotion just can't match. Savvy companies harness PR-generated news coverage to connect with distinct audiences in varying ways. For instance, sales representatives can use a piece of PR content as an effective follow-up tool. Founders who may be eyeing a future sale will find their businesses more attractive with a couple of years of media backing in place. Media coverage also sends a powerful message to current employees and potential recruits that what you're doing is getting noticed.
It Improves Employee Retention and Recruitment
Not only will PR help build your brand and credibility with your neighbors, customers and other external audiences, but it can also improve your reputation with the most valuable stakeholders of all: your employees. Positive media coverage provides external validation, builds company pride, and makes your employees feel like their work matters. This same coverage will also have a positive effect on potential new employees. Finding good talent is difficult in the northwest, and positive press coverage can help you break through to new audiences.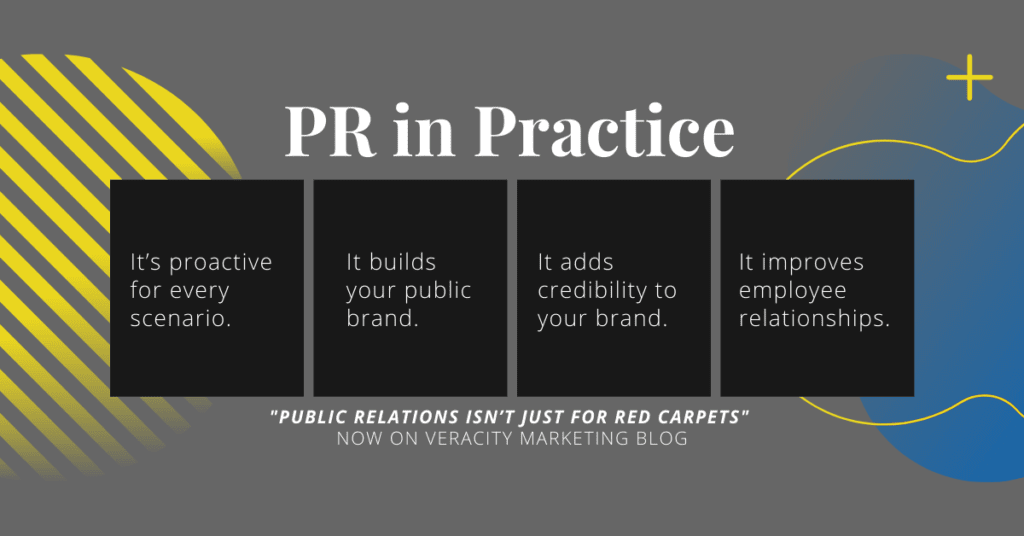 More Thought than Flash
Underlying all these benefits is a coherent strategy that matches effort and assets with the opportunities that will reach the right audience. Real-world PR professionals aren't interested in coverage that vanishes with the pop of a camera flashbulb. Instead, we want to build a lasting story around your company, employees, products, services and customers. Taken together, these stories form the backing of public perception and sentiment that will last for years. When you look at it in that way, PR is much more of a necessity than a luxury.