What enters my mind when trying to describe
Gary Stein
, Editor of the
Lake Oswego Review
, is unmatched candor and positivity. Amy and I recently witnessed first-hand how dedicated Gary is to the community he works in. Beyond his affable and witty demeanor, you can feel Gary's passion cutting through your headphones in this interview.
The Lake Oswego Review is a weekly newspaper, falling under the parental umbrella of Pamplin Media Group, which oversees 25 community newspapers throughout the Portland Metro area. Gary has served as Editor for three years.
Falling in love with journalism at the impressionable age of 16, Gary cut his teeth in southern California, where he was raised, and in Dallas, Texas, where he witnessed just how competitive local journalism can be. From Dallas, Gary made the leap up to Portland, where he would work for
The Oregonian
for 26 years in various roles.
Much of Gary's tenure at the Portland daily was spent as Managing Editor of the Custom Publications section, where he worked with reporters and freelancers covering special events, homes and gardens, the growing beer culture and nonprofit organizations in the community. Custom Pubs was dropped from The Oregonian during their major overhaul, shifting to a 'digital-first' model and making around 100 layoffs in the process. Gary admits that times were tough for the newspaper, himself and his colleagues, but he still values his time spent there, the connections he made and The Oregonian's editorial direction.
Gary has made it his mission to fully integrate into the Lake Oswego community his paper covers, setting up a series of monthly "Meet the Editor" meetings. But he doesn't stop there — once a week he has coffee, lunch or happy hour with different people around town. While these meetings often help the newspaper with leads, the real goal for Gary is to ensure the community can fully trust the paper and that the community is accurately represented.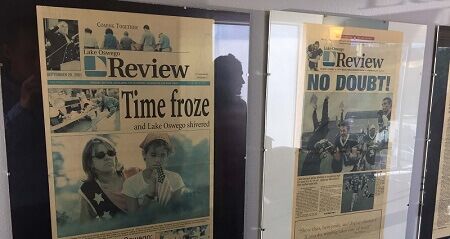 The Pitch Opportunity
Gary is a huge proponent of Pamplin Media's news-sharing model between its 25 community newspapers. Information travels fast among the Pamplin network of papers. So, if the story you're pitching the LO Review could be of interest to any other communities where there's a Pamplin paper, chances are you'll get more than one hit just by sending one pitch!
Gary notes the high volume of PR pitches he gets every day and gives industry pros tips to sharpen their skills before sending them along. Especially in community news, you have to be extremely targeted with your pitches — these publications won't bite on the shotgun-style, press release trigger-finger approach. Instead, make sure your news, or at least your take on it, is geared towards Lake Oswego.
Further, Gary says that he doesn't remember the last time the LO Review ran a press release verbatim. Instead, they want to do their own reporting and tell their own story. This might inspire you to spend more time on your pitch than the actual press release, since they won't run it as it stands. Give them all of the details and save your fluffy writing for blog posts or your journal.
PR Pet Peeves
We didn't get a ton of PR Pet Peeves out of Gary — having worked in both journalism and PR, he understands the give and take of both industries. To Gary, it all comes down to storytelling.
"I want there to be a surprise for the reader on every page," he says. "If I can give people something on every page, then I think I've done what I want to do with the newspaper."
Gary's biggest pet peeve, other than sending him pitches that have nothing to do with Lake Oswego, is when your information lacks the actual context he needs to pursue a story. If you're pitching an event to cover and you leave things out, such as the date (really?!?), Gary won't be too pleased. Of course, because of his commitment to digging into stories that matter to his audience, he'll do the research and get the information, but as a PR pro, you should ALWAYS include critical contextual information like that.
Another thing you should note are the paper's deadline days. Thrown on doorsteps every Thursday, the paper hits the press on Wednesday. This makes Mondays and Tuesdays the big crunch days for the staff, so keep that in mind and give the Lake Oswego Review some time to write your news. Gary did say that he likes phone calls and he'll give them more attention than the laundry list of press releases he receives via email.
Amy and I really enjoyed our open and positive conversation with Gary — and we're excited to continue working with this figurehead of local journalism. But we really ought to thank our pal and recent PR Talk guest, Byron Beck, for insisting we speak with Gary.
About the guest: Gary Stein
As editor, Gary is responsible for all facets of production for the largest weekly newspaper in the Pamplin Media Group, from story conception and assignment to writing, editing and design. He supervises a group of six editors, reporters and photographers and works closely with a central design desk as they work to inform, educate and entertain their readers.
Gary is also the public face of The Review, engaging every day with elected officials, business owners, civic leaders and community members to make sure they understand that The Review truly is their community newspaper.
Connect and follow Gary on social media:
Photo Credit for featured image: REVIEW PHOTO: J. BRIAN MONIHAN - Gary M. Stein, editor of The Lake Oswego Review