There's no scarier moment for a writer than staring at a blank page, wondering what you're going to type first. That terror grows even more pronounced when you're writing on a deadline for a paying client. While some people might thrive on that adrenaline hit, I just get a stomach ache, so I prefer to have a plan in place before opening my laptop.
Creating a content calendar is one of the best ways to bring order to the chaotic world of blogging, particularly with ongoing clients. When used correctly, these documents become a guidepost that will help you develop specific topics that are more strategic, impactful and interesting than anything you could write off the cuff. Here's how.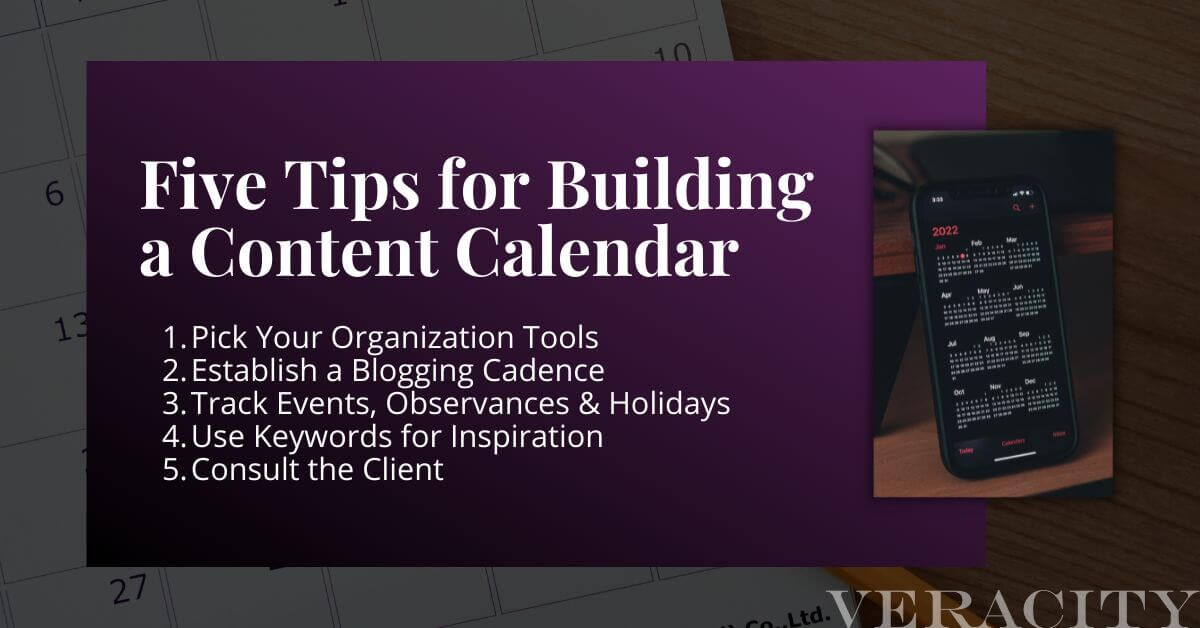 Five Tips for Building a Content Calendar
An effective content calendar offers multiple perspectives at the same time. The macro view should enable you to look months or even years into the future while also providing specific directions for your next post at the micro-level. Your calendar should also be a constantly evolving document open to collaboration between your teammates and the client. But before we get too far down the road, let's start by deciding where your calendar will live.
1. Pick Your Organization Tools
There are endless content management tools you can use to house your calendar, and I'm not here to tell you that one is inherently better than another. What matters most is finding a tool that every stakeholder will use. I prefer a shareable spreadsheet for long-term planning and collaboration. But I also use project management tools to keep assets, research and important dates for individual posts all in the same place. Your tools lay the foundation for your organization, so choose wisely.
2. Establish a Blogging Cadence
Once you've picked your tracking tools, it's time to establish a blogging cadence. If, for example, you decide to publish twice a month, you know you'll need to come up with 24 topics to fill out a year. In many cases, your marketing strategy or available budget will dictate your cadence, and at other times, your available resources might limit your production capacity. Either way, once you've established your posting frequency, you can begin developing individual topics.
3. Track Events, Observances & Holidays
Every business has its own rhythms, milestones and cycles that can potentially offer blog topic inspiration. Obvious examples are tax season for accountants or Black Friday for retailers. During onboarding, you should ask about these inflection points, note them in your calendar, and then create content that supports the larger goals related to that event.
Annual observances can also be an excellent source of content. If you're blogging for a client in the healthcare industry, then National Nurses Day on May 6th might be interesting. You could create content for plumbers around National Skilled Trades Day on the first Wednesday of May or use National Eat Your Vegetables Day on June 17th to promote a Farmer's Market.
The same principle applies to national holidays. The key is to marry your content calendar with the actual calendar to develop relevant content pegs and inspiration.
4. Use Keywords for Inspiration
Many larger marketing teams include a search engine optimization (SEO) specialist who uses Google advertising tools to target particular keywords in online search terms. These keywords are a goldmine for bloggers who can use them to develop content that's relevant to customers and helps boost a website's search position. Even if you don't have a dedicated SEO specialist on your team, there are plenty of online resources that will help you develop your own keyword lists. Any blogger worth their stripes can turn "best blue sneaker" into something interesting.
5. Consult the Client
Your clients will always be the experts on their business and their industry. But too often, clients don't know what they know. Or, more specifically, they don't see the value in what they know. That's why it's important to bring them into content brainstorming sessions whenever possible. It may take some coaxing and coaching, but they have a wealth of knowledge to make the content you produce more authentic and valuable for the end-user. Including the client also draws them in to the process, making them more invested in the outcome.
Plan Better to Create Better
With a content calendar in hand, writing doesn't have to be a white-knuckle affair. Instead, whenever you open your laptop and face down the empty page, you'll be armed with a relevant topic that meets a strategic goal. At the same time, you'll be able to work ahead by assembling the assets you'll need for future topics before you start writing. You've now created the framework to produce higher-quality content that packs a bigger punch — all with fewer stomach aches.