The PR Talk crew hadn't chatted with anyone working in radio for a while, so Amy and I jumped at the opportunity to interview
Corey Foley and Mitch Elliot
from KINK FM. "The Pair with the Hair," as I
like to call them
just made up in my head, run KINK's weekday morning show from 5:30 a.m. – 10 a.m., spinning their favorite jams and offering a rundown of the day's news. Only teaming up this past May, Corey and Mitch's morning show is new to the KINK schedule — their seamless chemistry a testament to both of their personalities, as well as to KINK's production team for making the match.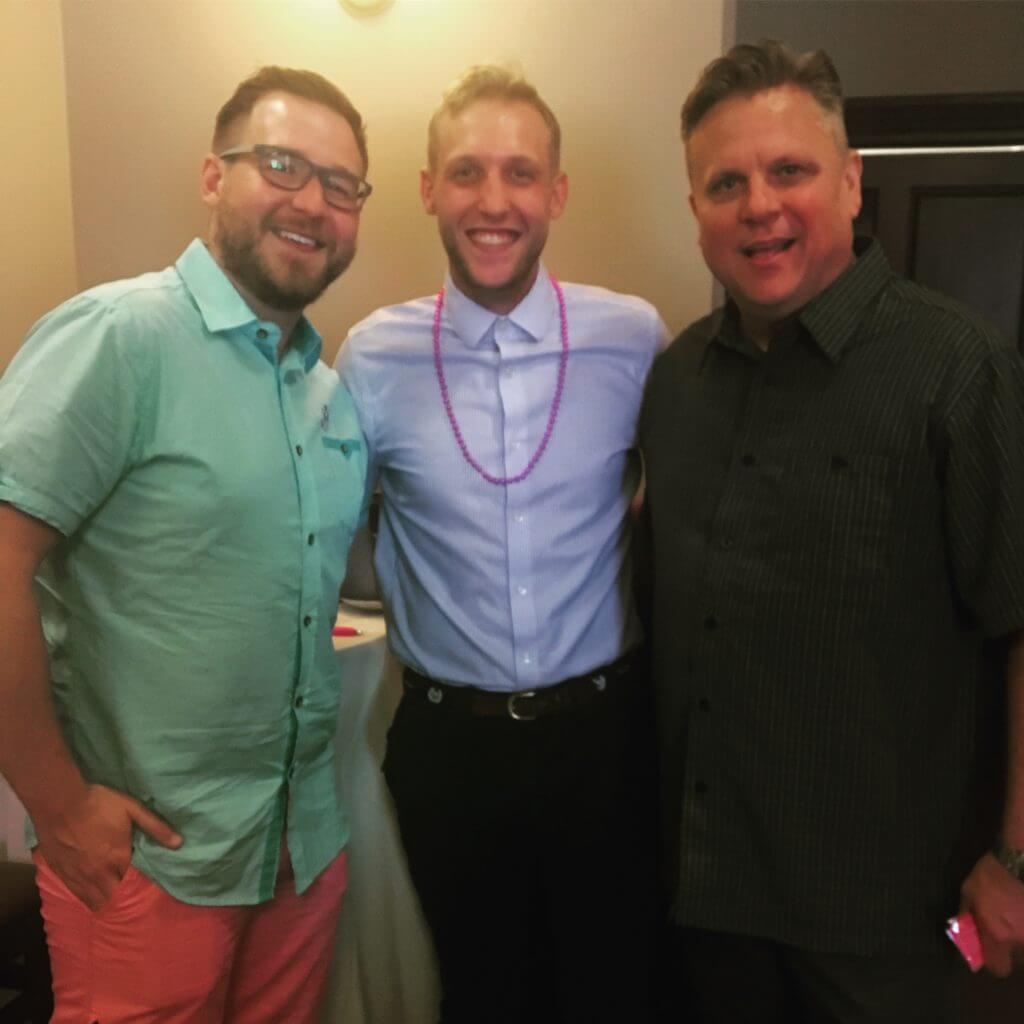 I met Mitch in August at the Real Men Wear Pink kickoff party, and instantly gravitated to the jovial guy with the golden, bass-laden voice. As part of Breast Cancer Awareness Month every October, the American Cancer Society runs a fundraising initiative called Real Men Wear Pink to get men in the community more involved in breast cancer initiatives. I'm thrilled to be part of this engaged group of guys who are raising awareness and money for men and women affected by the pervasive disease. We've gotten a head start on fundraising, but Mitch, myself and the rest of Portland's "Real Men" will be suiting up in pink throughout the month of October, as well as participating in the Making Strides Against Breast Cancer walk on the 14th.
Visit my portal if you're interested in making a contribution to my fundraising efforts — my sincerest gratitude to you! Alright, let's get into the show.
Corey and Mitch immediately made us feel welcome in the KINK studio. This responsive attitude isn't reserved just for us, though — the duo will reply to everyone who sends them a message, no matter the medium! Connecting to the listenership is goal number one for Corey and Mitch, and they acknowledge the challenge they're up against.
"You can get music anywhere… you don't listen to your favorite radio station to get your news anymore… what we want to give you is something you can't get anywhere else," Corey said.
8 Seconds to Win Us Over
Corey and Mitch better serve up their message quickly — their coaches stress that they only have eight seconds to captivate radio channel surfers before they turn the dial. This results in a great deal of nonverbal communication between the pair and reliance on keen broadcasting instincts. You can hear this in the interview — Corey and Mitch are absolute pros at getting a message across rapidly, but eloquently.
Interviews are Dead
On-air interviews with authors, or even someone famous, are a thing of the past on anything but news or talk radio these days. Remember: eight seconds. There is no time for drawn out interviews! However, Corey & Mitch will still "pass your news on" if it's deemed audience-worthy. This means they will let listeners know what's going on with your news themselves through a quick, on-air blurb. They just won't interview anyone anymore.
Promotions Directors Are Kings & Queens
If there's an event (concert, book signing, or otherwise) you're trying to promote, don't send all of the info to the DJs and pester them continuously. Instead, do some homework, find out who the station's Promotions Director is and figure out something creative with them. Promotions Directors typically plan sales promotions to increase revenue, or program promotions to increase the audience's time spent listening (TSL). KINK's Promotions Director is Derek House, so reach out to him if you've got something cooking. If you're pitching music, shoot your pitch over to the Program Director, Sean Demery.
Additional PR Tips
This is a tried and true tip, but DO YOUR RESEARCH!!! Don't pitch an author interview when you should know that Corey and Mitch simply will not play along.
Take a look at "Words We Said" — the Corey & Mitch highlight reel. This will give you a good idea of what they might talk about.
Sneak in the building.
Make your subject line as attention-grabbing as possible. Corey and Mitch love salacious titles!
It was a quickie, but Amy and I had a great time talking to Corey and Mitch, and they were fantastic hosts. If you're looking for a meet-and-greet with them, check out the upcoming performances in the KINK Live Studio, usually followed by a Q&A with the musicians.
Keep an ear to the ground for more information on Real Men Wear Pink and join me at the Making Strides Against Breast Cancer walk on October 14!
About the guest: Corey Foley
Corey Foley was born and raised in Florida, and is a second generation Florida Gator. She loves spending time with her three dogs and her hubby, looking for the perfect chicken wing and watching college football. She also digs meeting new people, hiking, any kind out outdoor festival and searching for her next tattoo.
Connect and follow Corey on social media:
About the guest: Mitch Elliott
Mitch Elliott was born and raised in Atlanta, Georgia but calls the Pacific Northwest his home for the last 15 years. Mitch loves cooking, exploring Portland's food scene, and flying stunt kites on the Coast. Mitch lives in Southwest Portland with his partner Derek and their amazing Golden Retriever named Ruby-June and their lovable mutt named Brewster.
Connect and follow Mitch on social media:
In such a fast-paced, multi-faceted work environment, it can be tough to stay on top of everything. dapulse is the collaboration tool trusted by businesses of all kinds to help cut down the clutter and streamline productivity. Learn more at dapulse.com and signup for a free trial. You'll see in no time why so many teams around the world are choosing dapulse for their project management needs.
PR Talk listeners can use the coupon code BetterExecute for a 15% discount.
This episode of PR Talk is brought to you by PRSA Oregon
Throughout Oregon and Southwest Washington, PRSA provides members with networking, mentorship, skill building and professional development opportunities – whether you are a new professional fresh out of college or a skilled expert with 20 years in the industry. Check out PRSAoregon.org for more information on how membership can help you grow and connect.