Up With the Pope
Rather than saying I was up with the chickens this morning at Rosenberg Marketing, I was up with the Pope, figuratively speaking. The Pope had an overwhelming presence during today's live morning show shoot with Joe V. from KPTV's Good Day Oregon.
The shoot was scheduled to promote Saturday's Classic Wines Auction — one of Oregon's largest fundraisers, which raised nearly 2.5 million last year for local charities.
CWA donor and event partner, SE Wine Collective hosted us for the shoot. Proprietor Kate Monroe told the TV audience about the Collective — a cool urban winery that allows other winemakers to create their blends onsite. A public tasting room then highlights their work at SE 35th place and Division.
N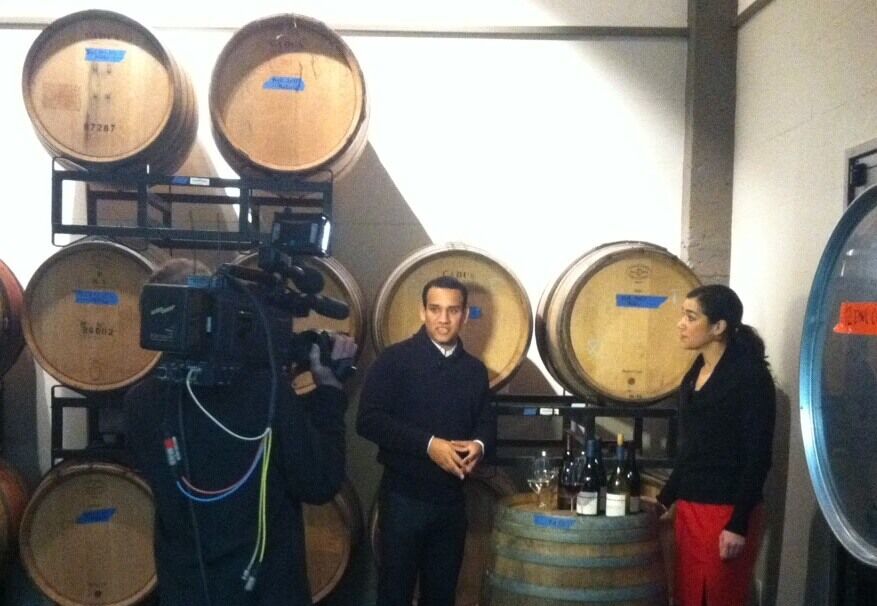 ext up was CWA Executive Director, Heather Martin, who filled us in on Saturday's sold out event. The audience must have been impressed when she said they've already shattered previous attendance records — drawing 920 people to the gala auction.
The President of CWA beneficiary, Friends of the Children, Terri Sorensen followed. She was a natural when she told us that "Friends" selects the most at-risk kids while they are in kindergarten and mentors them all the way through 12th grade.
As always, we had saved one of the longer segments for the cooking demonstration. All was running smoothly during the interview with Scott Dolich, esteemed auction guest chef and owner of the bent brick and Park Kitchen. But when Joe gingerly sped up the cooking demonstration, we knew something was awry.
All morning KPTV news managers were updating Joe on the Pope's whereabouts during his final day. The Pope apparently decided to take the stage during Scott's cooking demonstration. We lost one minute of coverage — almost half the segment. Joe still managed to expertly plug both restaurants and the auction while smoothly expediting a cooking demonstration.
The viewers had no idea. Not an easy task for Joe.
The Pope kept everyone in suspense with an address that lasted longer than expected. KPTV understandably decided to stay with the Pope and cut our last two segments. That's show business!
We learned a good lesson in live TV — be flexible! No one can control the news. When something comes up that is more newsworthy than your story, just go with it. The reporter who is with you is even more invested in airing the story than even you are.
According to Your News, Inc., we still logged over 18 minutes of air time; with a total ad equivalency of $29,645 (the cost if you were to buy the coverage) and $88,935 in total calculated publicity value (the monitoring service adds more value to earned media).
We consider this a success and will share the stage with the Pope on his final day.