Welcome the New Year with a Much Needed "Motivational Minute" with Libra Forde
Libra Forde on New Year's resolutions, motivation during WFH, thoughts on job-losses and more!!!
As a way to bid one of the worst years in recent history farewell and provide a mental shift to the new start that will hopefully be 2021, I interviewed Libra Forde in honor of PR Talk's 99th (!!!!) episode. There couldn't be a more fitting interviewee for the momentous occasion of kicking 2020 in the ass (however, already providing a mental shift, watch Libra's video, F_ck 2020…really?) and welcoming 2021 with Libra's ever-popular "Motivational Minute" videos.
Libra happens to be the COO of one of Portland's hallmark nonprofits, Self Enhancement, Inc., which guides underserved youth and families in our area. However, that's not why I interviewed her. During these coronavirus times, I have gotten obsessed with the "Motivational Minute" videos Libra's posted to her @BeTallLibra Facebook page well before the doldrums of 2020 caught up with us.
When the pandemic hit, I was trying to be the ultimate Type A mom (as Libra calls it), while also running a business. Not only did I feel the need to perfectly micro-manage the at-home curriculum the school had already given out, but I also added more work on top of their current curriculum—as evidenced by this photo accompanied by very braggadocious words. As time and stress marched on, not only did I forgo the extra school-work I'd aspired to, I was having a hard time keeping track of the work prescribed by their own schools.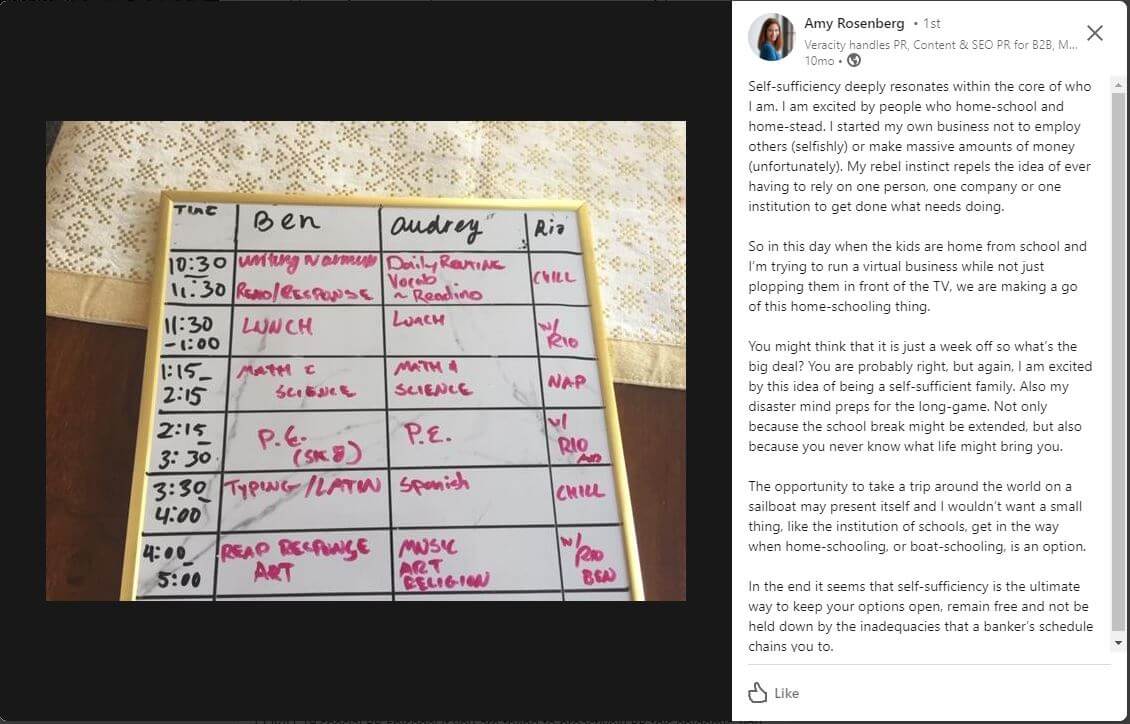 This untrue "failure" on my part got me really down. However, I heard Libra's inspiring words about homeschooling during COVID-19 in one of her Facebook videos and immediately felt better, giving myself the reprieve I so desperately needed.
The reason why her words were helpful in that instance, but also in many other instances for others, was because of how honest and true they were. Her motivation and inspiration is not "fluff" meant to trick you into feeling better by shading reality. Instead, her videos, ranging on all types of topics—from respect on social media and Black Lives Matter to getting back on your path and checking people's receipts—speak to so many of us because of the realistic way in which the problems of life are presented.
I figured that all of us could benefit from a clean mental palate during this time when we are going into a new year. Libra and I address topics that can relate to all audiences (if you are not saddled with home-schooling), such as how to find motivation and energy while working from home, what to think about a forced job-loss, or what Libra really thinks about New Year's resolutions!
Listen to the interview for thoughts on how Libra uses organization and planning to calm her nerves and keep stress at bay, along with more on Libra's fascinating background as a reformed home-schooler (before coronavirus even!), how she started the video series and more.
About the guest: Libra Forde
Libra Forde is the Chief Operating Officer of the Portland nonprofit, Self Enhancement, Inc. However, her popularity has risen lately with her inspiring and honest "Motivational Minute" videos posted weekly to her @BeTallLibra Facebook page. A self-professed "thought partner," Libra is a leader, speaker and change agent available for speaking engagements at LibraForde.com.
Connect and follow Libra on social media:
This episode of PR Talk is brought to you by PRSA Oregon
Throughout Oregon and Southwest Washington, PRSA provides members with networking, mentorship, skill building and professional development opportunities – whether you are a new professional fresh out of college or a skilled expert with 20 years in the industry. Check out PRSAoregon.org for more information on how membership can help you grow and connect.